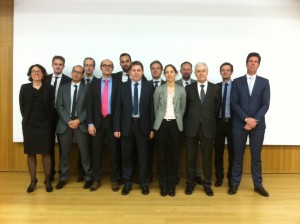 The first graduates of the Moisson Desroches cursus (high level training cursus managed by Fer de France- see website) have recently presented 3 final reports, finalizing their studies about the french railway industry context.
See photo : the members group with Nicolas Jachiet Chairman and CEO of EGIS, President of Fer de France
Topic 1 : value cartography. How and where is the value created in the French railway sector ? What are the key figures ?
Study managed by:
Nicolas Brossier : Rolling stock manager Eurotunnel
Jerome Kazmierczak : deputy human ressources division, SNCF Réseau.
David Herrgott : Consultant, former deputy head manager at Fer de France
Younes Ouguerzi : IT system director VFLI (UTP)
Thème B : disruptions and evolutions : wich are the coming evolutions modifying the economic model for railways ? Wich are the ways to anticipate and to implement new technologies and disruptive approches to make the railway system able to survive ?
Study managed by :
Jimmy Brun : manager of the railway office MEDDE
Didier Caramello : project manager SNCF gares et connexion
Emmanuel Bois : director business developpement for PTAs and public sector Alstom
Frédéric Cyr : General manager of Rhône Express Transdev (UTP)
Topic C : Lean and competitiveness. How lean and low-cost approaches could help to develop railway sector? Are the actors ready to evolve into this way? Is it possible to increase the lean spirit within the French railway sector while keeping a large and positive ambition for mobility developpement ?
Study managed by :
Florence Laizier : general manager of the line 1 of Paris metro RATP
Alexandre Magny : general secretary of GART
Florence Datcharry-Sirven : director of SNCF university
Antoine Goga : Director for railway sector Arcadis (Syntec)
download the reports (in french)
cycle MD 2016 – Cartogaphie de valeur dans la filière
cycle MD 2015 – Anticiper les ruptures VF